Do you like reading? I do!
I love reading and learning, and I read a lot of books–both fiction and non-fiction, but mostly non-fiction witchcraft and spirituality books–especially when I'm researching or writing a book of my own.
And I like to read lots of different authors in many styles. I like to hear about different ways, practices, and preferences, and it's inspiring and thought-provoking to hear something that's out of the norm for me.
So… here are a few of my favorite witch books! It was super fun to photograph and put this together to share. Hopefully, I'll do a second blog about this in the future as I have many more awesome books to share.
If you have any favorites to recommend, please leave them in the comments! I'd love to hear.
Some of my Favorite Witchcraft Books
Cunningham's Encyclopedia of Magical Herbs
An essential reference book for magical herbs. Really well-done with a super-useful index. A classic!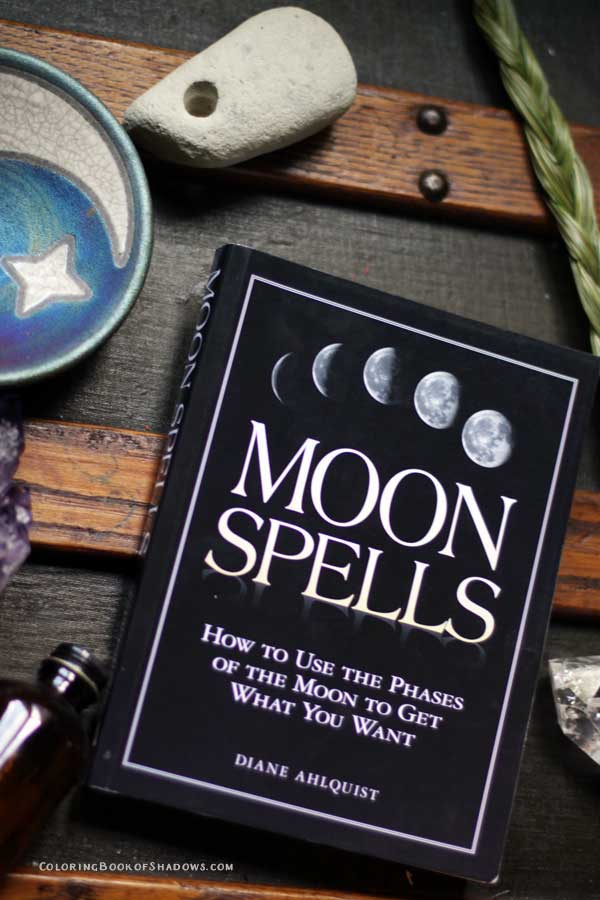 Moon Spells by Diane Ahlquist
This is a wonderful spellbook–Diane has a fantastic style and flair for spells and timing of the moon.
Grimoire for the Green Witch by Ann Moura
Possibly my favorite witch book, but it's hard to say because I love and appreciate all of my books! 😀 This book is awesome, it's formal and more traditional–and yes, totally different than the books I write and how I practice my own spells. However, I find it to be a wealth of inspiration and deep knowledge. This book is amazing.
The Green Witch by Arin Murphy-Hiscock
A gorgeous witchy aesthetic and lots of sweet, modern herbal things to try and inspire.
The Good Witch's Guide by Shawn Robbins and Charity Bedell
Another adorable modern witchy book. Great spells mixtures, and herbal tidbits.
The Goodly Spellbook  by Lady Passion and Diuvei
Oh, I love this one! It was a big surprise how playful, positive, yet historically well-researched and deep into folklore this book went. It's got the most wonderful vibe to it and it always brings a smile to my face. And, I fan-girled looking up more about the authors on Google.
Garden Witchery and Cottage Witchery by Ellen Dugan
Ellen's books are adorable and filled with so much useful info. I love both of these books to bits, and recommend them if you are looking to add more magic to your garden.
---
So… have you read any of these?! What witchcraft books do you recommend?!
✕
Sign up for new book announcements and free printable pages!
Get this Moon Magic set now!
... + more magical freebies & infrequent newsletters